Remember the days when working from home was a luxury for mostly everyone? The last few months has seen a massive shift in the working culture due to the coronavirus pandemic, and it's quite possible that you have been working from home, too. And you might need to rent furniture if there are multiple people staying at home, and you need extra couches, laptop tables, chairs, etc.
Acclimatizing to a new routine can be tough and spending all your time cooped up at home can get quite infuriating. Which is why setting up your home the way you want it is a great way to make yourself and your family feel comfortable during these trying times. With many of us settling in for the long haul, it is possible that you might need furniture pieces to accommodate everyone in your home at the same time.
You might want to trade in your straight back chair for a more comfortable one, or if you are feeling adventurous, maybe even a bean bag. Maybe you want to make the spot where you spend your days (and maybe nights) more welcoming and video-conference-friendly.
Keep these tips in mind to help boost your productivity while working from home.
Figure out the best space in your home for video calls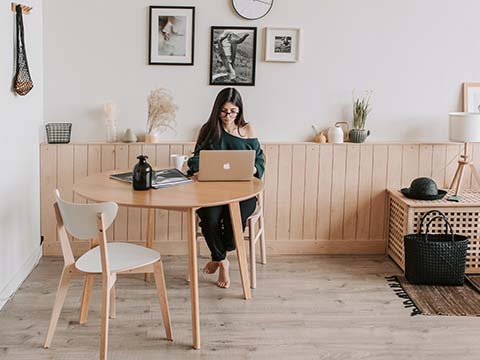 You wouldn't want to attend a work video call while there are kids screaming in the background or you can hear the pressure cooker going off in the kitchen. Figure out a quiet place in your home to set up your home office and turn to online rental services to pick out the perfect laptop table on rent, and while you're at it, maybe a chair on rent, too.
Make sure to be comfortable while working and maintain your posture. If your feet don't reach the ground, you can even get a study table on rent which comes with a footrest, so that your feet don't dangle off the side.
Organization is key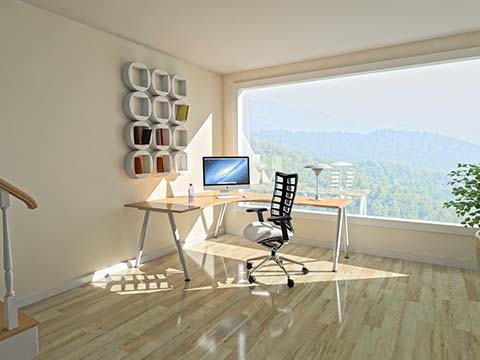 Many online rental providers will offer you the perfect study table on rent that comes with drawers, so that you don't end up misplacing important documents. Keeping it all together is hard, but organized living beats chaos. You shouldn't be running all over your house searching for an important document just before a call with your boss.
If you live with your family or roommates, organization is key, so that you don't happen to mix up your documents and papers with theirs. Additionally, you can even rent bookshelves to have a dedicated place to keep all your precious books and papers.
Maintain a work-life balance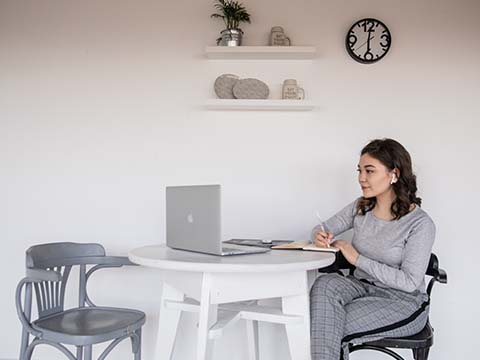 Just because you are working from home doesn't mean you spend all your time working. You should be clear about when you're working and when you're not. You can rent furniture like bean bags or egg chairs to take a break during work hours, stretch your legs, and enjoy a cup of coffee.
Choosing to get a laptop table on rent and an additional chair on rent for your home is a great idea, especially if there is more than one person working along with you. That way you don't have to compromise on space and renting saves you from having to spend money on buying furniture you may not even need at a later date.
You will also need good lighting when working from home, and Rentickle offers you a wide variety of floor lamps to choose from, too. You'll want good lighting to prevent eyestrain — and so you and your home will look fabulous on Zoom calls!
Regardless of where you choose to work from; whether your bed, your couch, or a study table, it's important to take breaks during the day to stretch your legs and change positions frequently, so you don't end up spending the entire day hunched up at your desk.
Choosing to rent furniture to set up your home during the "new normal" will help you give your home an office sort-of feel. No matter which room you're planning to get furniture on rent for, Rentickle has the perfect furniture pieces for every room that we know you'll love.