The elements that go along in designing a kid's room are multiple, sometimes to the point where your plate is overflowing because a kid's true personality can really shine through his or her surroundings, whether you buy or opt for kids furniture rental, the choice depends on the requirement that one desire or whether one would want furniture rent for only a specific period of time when the kids are growing.
Providing your kids with the right environment is essential while they are growing up because it highly impacts their thinking and in turn their actions. The best way is always to give them the opportunity to keep their passion alive throughout the years and the freedom for them to design their rooms just like they would want.
Consider yourself as a kid, and remember all the little things that you still reminisce from your childhood and its surrounding, how you decorate your space and what all the toys you had, it leaves an impact, doesn't it?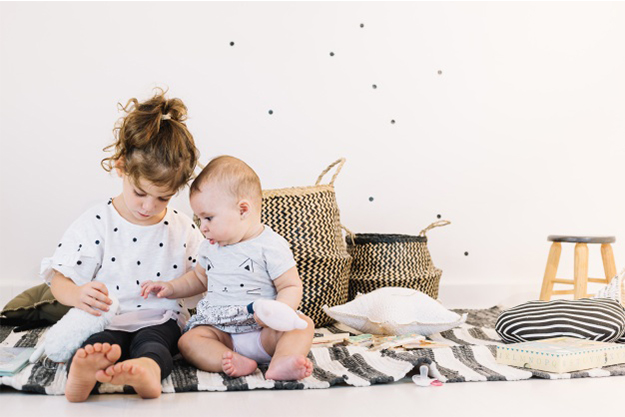 That's why it is way more important now to give your kids a feeling of passion growing up in this digitalized world, you wouldn't want your kids to look back at their childhood and only remember the technology that they used instead of the activities they did and lived in their living space.To give them a sense of purpose, it's always better to look around for their interest and work around that when decorating their bedrooms, it doesn't have to be gender specifics pink and blue – you can also opt for more gender neutral options and give them the freedom to pick on their own interests.
When you are looking for kids furniture you need to keep their lifestyle in mind and all the activities they usually take part in order to provide them with the best bedroom makeover altogether. If your kid is really young then you would require protection boards covering the sides of the beds in order to keep them safe from falling at night, on the other hand if you have a kid who is growing up and is into sports than you need to check the strength and the quality of the bed as well for it to be strong enough to serve the purpose and still stand apart from basic kids furniture.
Now the problem that most parents face is the longevity of the bed not in terms of durability but the usage in the long run because when the child is young she might like her princess bed or he might like his racing bed but what about when they start to grow into teenagers? The change will be inevitable then but since you would have already committed to this purchase it would lead a lot of hassle by then.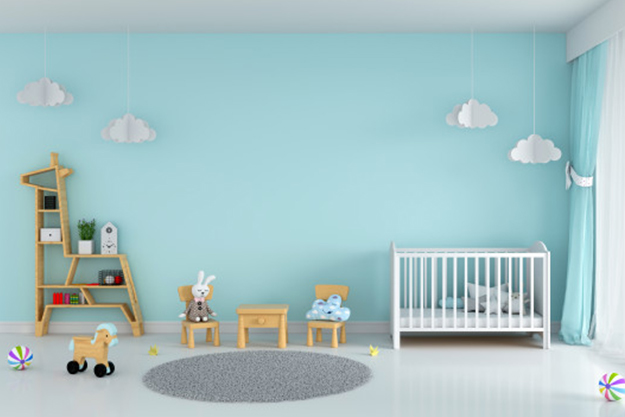 Keeping this entire thing in mind, there is definitely an industry that can help in solving all of these major problems of not letting the kids get bored with their dull bedrooms while still being able to provide with exciting furniture pieces, all of this can be done if one opts for rental industry.
Although rental industry is only popular amongst millennial, many people are still skeptical to rent out stuff because there isn't enough awareness regarding the same amongst people, and when it comes to opting furniture rental for kids parents tend to be a little more careful, which is why you need to have a rental provider who you can truly trust in the product quality and durability for your kid's furniture rent especially if you want something that will help them grow up.
While doing the research, there are many service providers who give bed on rent but there aren't enough who provide good quality furniture made especially for the kids like bunk beds for kids or just in general kids beds.
Looking up we found only a few players in this segment who provide good quality kids furniture: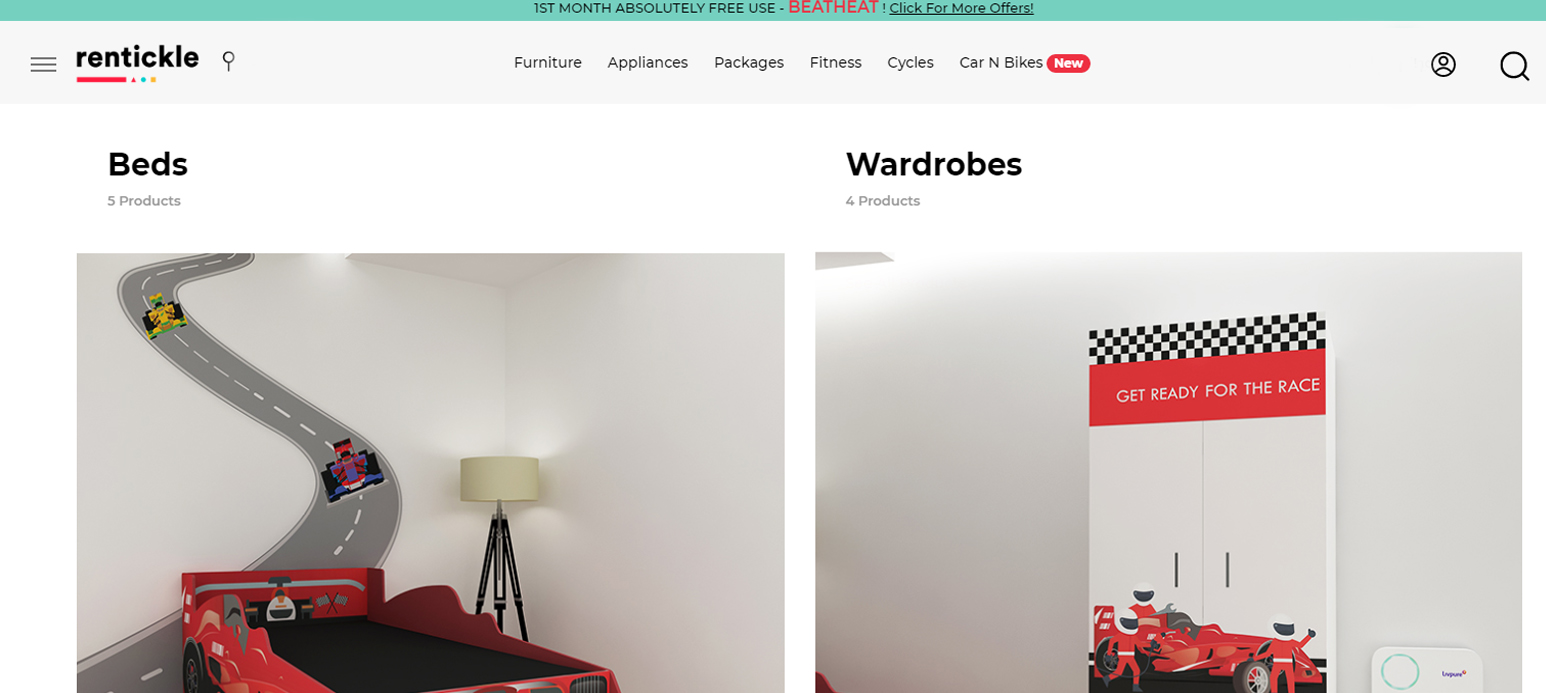 Rentickle : They have a tremendous collection of beds on rent especially made in-house for kids and to spark their creativity, not only that but they also provide other individual pieces from the collection like chest of drawers and wardrobes in the same themes to complement the overall look of your kid's room, apart from getting everything individually, you also have the option to rent it in a package instead of just to look out for rent a bed – they have 4 major themes created by their designers which are – Space, Aqua, Race Car, and Jungle Safari in their kid's furniture rental. They have truly kept it gender neutral and can be rented for both a girl or a boy. One can rent kids beds from Rentickle at a very good price that fits right in the budget.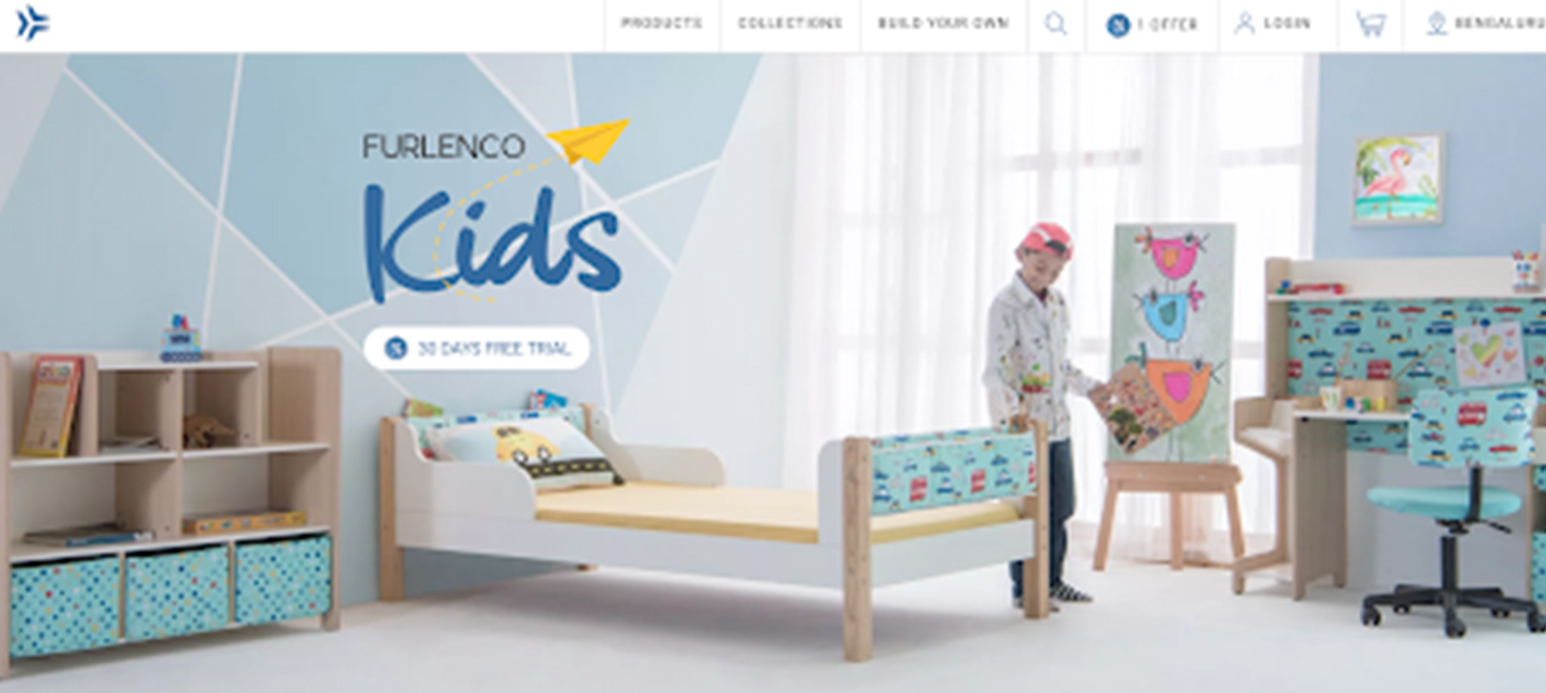 Furlenco : They seem to offer cribs for toddlers and bed on rent for kids, the collection is quite simple and definitely has two segments when it comes to specifications – themes are gender based and hence the packages also follow the same guidelines. The options in themes are limited so that might be a bummer for most, however if one is looking so a simple pastel themed room for their kid then it could work well.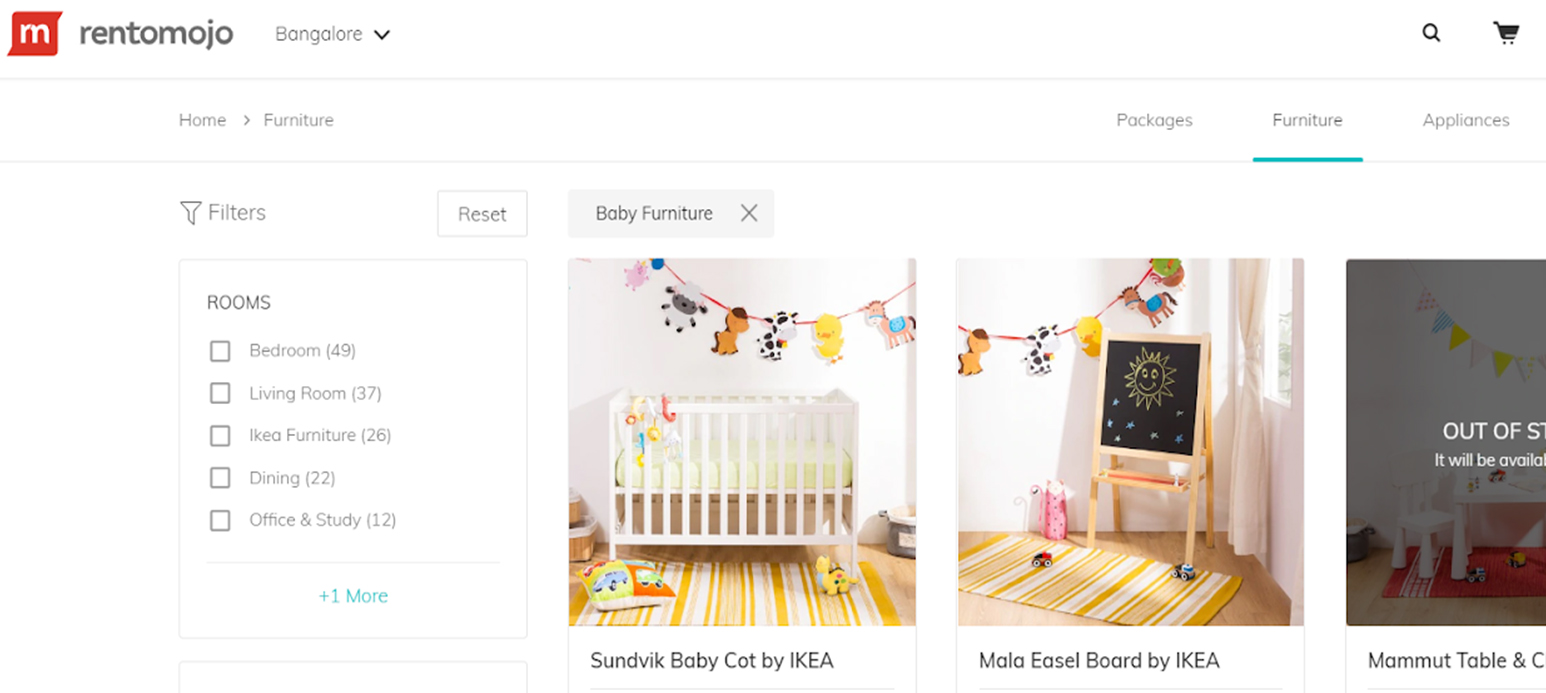 Rentomojo : They don't seem to have any of their own collection but have collaborated with IKEA in order to provide kid's category, although there aren't specific options to rent a bed for growing kids but they do provide cribs for toddlers, so that is all that one could rent from them as of now, not many options to explore from. However a mattress on rent or proper kids bed on rent would have been nice overall specifically.
Out of the three, Rentickle seems to stand out the most as it not only provide beds safe enough for toddlers as well as young kids but also have an outstanding collection which is just perfect for kids with different themes to pick from according to their interests.
Rentickle also seems to provide additional benefits like Free Maintenance, Fast Delivery, Easy Returns and Free Relocation, which is definitely necessary to be provided as services by a rental provider to the consumers.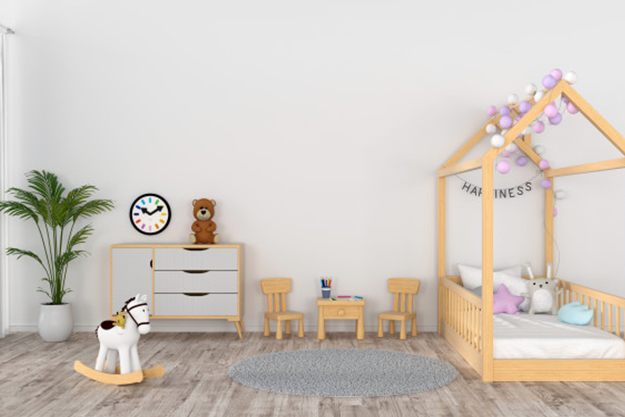 Renting furniture especially for kids as a whole market is growing slowly as the preferred choice for many young parents are quite adaptable since it's quite cost effective and the flexibility to just exchange or return once the tenure period over is a great hassle free service that attracts many eyes and is here to stay, So get going rent bunk beds for kids or just simple kids beds and step into the furniture rental lifestyle!